Baase Brenda Bridson – Death of Brenda Bridson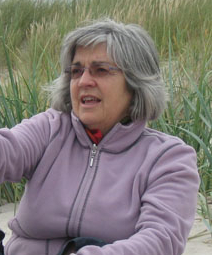 I am very sorry to bring you this sad news about Brenda's death. We have all known her as a stalwart of the Celtic Congress for many years, as joint secretary with her friend Brenda Williamson, as a committee member and as Eaghtyrane (President). Her irrepressible sense of fun will be sorely missed. She had a profound knowledge of the Island and its people which she delighted in sharing, and she was a generous host and excellent company. Our condolences go to her family and her many friends, not just here in the Island, but particularly amongst other branches of the Celtic Congress and those groups of dancers who came to know Brenda as a dancer with the Manx Folk Dance Society.
The following notice has been published by Isle of Man Today –
BRIDSON. Peacefully at her home in Glenvine on 2nd April 2020. Brenda Ann (Nee Caine) aged 75 years, at rest at last. Dearly loved wife of Chris. Devoted Mum of Catreeney and Breeshey, Mother in Law of Peter. Under the very trying times at the moment the Cremation Service will be strictly private. A service to celebrate Brenda's life will take place at a later Date. Donations in Brenda's memory, please to be made to Hospice IOM, whose support and care have been outstanding at this very difficult time. All enquiries please contact Kissack's Funeral Directors, Crosby, Tel, 480794.
Taghyrtyn scryssit magh – Events cancelled
In order to assist in measures against the spread of coronavirus, the Manx Branch of the Celtic Congress will not be holding any further meetings for the time being.
This means that the presentation by Steve Wright on Manx wildlife was not held on Saturday 4th April, and the proposed excursion to the Port in Ballaugh on Saturday 2nd May will also not now go ahead. Grateful thanks to Steve Wright for having agreed to give his presentation and we look forward to being able to arrange a future date when things have settled.
Any re-arranged dates or further events will depend on the instructions and advice of the Government.
The Welsh branch issued a statement on Monday, 30

th

March announcing the cancellation of the International Celtic Congress which had been scheduled

to be held in Aberystwyth, Wales from Monday 20

th

to Saturday 25

th

July 2020. 
For draft minutes of the Annual General Meeting of the Manx Branch of the Celtic Congress held on Saturday 2nd November 2019, please click here.
Failt erriu gys Banglane Manninagh y Chohaglym Celtiagh
Welcome to the Manx Branch of the Celtic Congress
Eaghtyrane: Brian Kerwin
Lhiass Eaghtyrane: Stewart Bennett
Patroonyn: Clare Christian OBE; Noel Cringle OBE; Hazel Hannan
Screeudeyr Onn: Bob Carswell
Tashteyder Onn Shallidagh: Bob Carswell
The International Celtic Congress is held annually to perpetuate the culture, ideals, and languages of the Celtic peoples, and to maintain an intellectual contact and close cooperation between the respective Celtic communities.
The Celtic Congress was founded in 1917, though its antecedents go back some years before that, in order to promote the knowlege, use, and appreciation of the languages and cultures of the six Celtic countries. National Branches of the Congress meet in an International Congress each year in order to help further these aims.
Bob Carswell
Katie Newton was inspired to explore the Island's keeill sites after a presentation on them […]
Bob Carswell
Chris Callow opened several interesting books for our inspection – the Liber Assedationis, or setting […]
Bob Carswell
Janice Quilliam has quite a project on the go, working her way through the thousands […]