CURRIT SHAGHEY – POSTPONED  : SATURDAY 6th MAY
Owing to technical difficulties, our scheduled presentation by Dr Fenella Bazin will not be going ahead on Saturday afternoon, 6th May. We will slot it into our forthcoming schedule, so watch this space!
MEANWHILE –
this Friday evening, 5th May, Yn Cheshaght Ghailckagh will be holding its annual general meeting at 8.00pm in Thie ny Gaelgey, Sulby.
TAISHBYNYS – EEANLEE ER Y CHALLOO : PRESENTATION – BIRDLIFE ON THE CALF
Dessie Robinson is a great raconteur, with many stories arising from his presentation of images and his experience on and around the Calf of Man, and particularly its birdlife.
Gura mie mooar ec Dessie for a very entertaining afternoon on Saturday 1st April.
Read a little more about it here.
BAASE ALICK KISSACK
S'treih lhiam gra dy dooar nyn garrey Alick Kissack baase 11ed Mee Vayrt. She dooinney coar as gennal va Alick, as v'eh oltey y vanglane Manninagh rish ymmodee bleeantyn as Lhiass-Eaghtyrane y Vanglane, as va shin jerkal rish cheet dy ve Eaghtyrane y Vanglane, agh haink drogh-laynt er nagh row caa da  cooilleeney shen fy yerrey hoal. Ta shin cur nyn erreeish as nyn yeearreeyn share da ny 'neenyn echey, Annie as Jenny.
COHAGLYM CELTIAGH EDDYR-ASHOONAGH – INTERNATIONAL CELTIC CONGRESS
The Irish branch has arranged for the ICC to be held in Waterford, 22th-26th May in the Viking Hotel, Cork Road, Waterford, and in the nearby campus of the South Eastern Technical University. Outline information is available on the Irish branch website which is available by clicking here.
Yn Olloo Angela Little – Professor Angela Little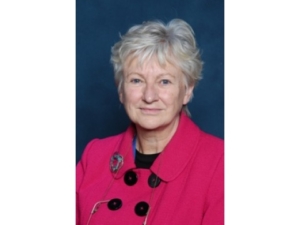 Professor Angela Little  gave a comprehensive presentation on Three and a half centuries of 'Education for All' in Peel , describing the relationship through Philip Christian with the Worshipful Guild of Clothworkers which has been such a feature. However, it has not been the whole story, as Professor Little explained. You can read a little more about it by clicking here.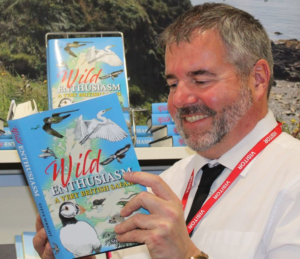 Steve Wright and his presentation on Manx Wildlife.  
Steve has recently had his book, Wild Enthusiasm : A Very British Safari, published by Merle Unwin, about his wildlife travels round the British Isles, including a chapter about the Island.
Steve's enthusiasm is evident and was infectious as he focused on Manx wildlife – quite literally, with some of his own footage as a filmaker.
You can read more about it by clicking here.
TAISHBYNYSSYN – 2023 – PRESENTATIONS
Details of the rest of this year's programme can be found by clicking here.
Our first presentation on 14th January was –
Sooill y Joarree : The Stranger's Eye on Mann – The 1795 paintings of John 'Warwick' Smith.
You can read something about it by clicking here.
TAISHBYNYS – MEG HYLAND – PRESENTATION
As part of Yn Chruinnaght this year, Meg Hyland gave a presentation about her PhD with the University of Edinburgh : Little Rhymes in the Manx – Music and herring workers in the Isle of Man.
Meg's presentation was recorded by Culture Vannin and can be seen by clicking here.
TAISHBYNYS – STEPHEN MILLER RBV – PRESENTATION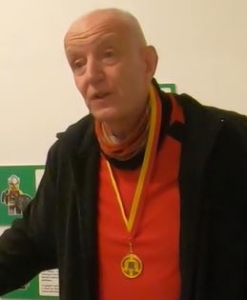 The Manx Branch of the Celtic Congress and Culture Vannin joined forces for an excellent presentation by Stephen Miller RBV,
"Talking and telling stories about the fairies": Manx Fairy Lore
Stephen's presentation was recorded by Culture Vannin and can be seen by clicking here.
You can read a brief appreciation of Stephen's presentation here.

Chloe Woolley, yn Greinneyder Kiaullee (the Manx Music Development Officer) to Culture Vannin produces an excellent monthly overview with copious illustrations of what's happening in the Island's music and dance scene, together with interesting pieces of research and a transcription of a tune. To read the latest edition of Kiaull Manninagh Jiu, click here.
International Celtic Congress Facebook Page
Len Sheppard, the Vice-Chair of the Cornish branch, prepares a Facebook page for the International Celtic Congress (click here) as well as the Cornish branch newsletters to promote the Congress and work of the various branches to a wider international audience. He asks for material for inclusion to be sent to him at associationcornishheritage@gmail.com.
The latest newsletter of the Cornish Branch can be read by clicking here.
Nyn Mwooise da Margaret Patricia Crellin – Our thanks to Margaret Patricia Crellin 
The Manx Branch of the Celtic Congress received a generous bequest from Margaret Patricia Crellin, who passed away in Noble's Hospital in January 2021 at the age of 91. She was sister to George Crellin of Fiddlers Green, Andreas and a relative of the late John Crellin of Close-e-Kee.  Margaret spent some years in Australia but always loved things Manx. She learned the Manx language by getting sets of tapes sent out to her. In addition to her bequest to the Celtic Congress, she also made one to Yn Cheshaght Ghailckagh, with which John Crellin has, of course, been so closely associated for many years.
Failt erriu gys Banglane Manninagh y Chohaglym Celtiagh
Welcome to the Manx Branch of the Celtic Congress
Eaghtyrane: Brian Kerwin
Lhiass Eaghtyrane: Stewart Bennett
Patroonyn: Clare Christian OBE; Hazel Hannan
Screeudeyr Onn: Bob Carswell
Tashteyder Onn: Bob Carswell
The International Celtic Congress is held annually to perpetuate the culture, ideals, and languages of the Celtic peoples, and to maintain an intellectual contact and close cooperation between the respective Celtic communities.
The Celtic Congress was founded in 1917, though its antecedents go back some years before that, in order to promote the knowlege, use, and appreciation of the languages and cultures of the six Celtic countries. National Branches of the Congress meet in an International Congress each year in order to help further these aims.
Bob Carswell
Dessie Robinson is a born story-teller, and his time spent as a warden on […]
Bob Carswell
Three-and-a-half centuries of 'Education for All' in Peel
Professor Angela Little followed up on her presentation […]
Bob Carswell
Steve Wright is enthusiastic about wildlife, and his enthusiasm is infectious. Taking his audience with […]