Baase Joan Lace – Death of Joan Lace
With the death of Joan Lace at the age of 97, we have lost a stalwart supporter of the Manx Branch of the Celtic Congress. Joan's mother was Florence Ethel Parry, known as Florrie or Flo, and her father was Percy John Moore, known to his friends as P.J.
In her 2006 book, King of the Sea, Joan gives a fascinating account of family history and the Moore family fish selling and kipper smoking business, with glimpses of the people and social conditions in Peel over the years.
The book was written for her children, Marion, Cathy, Juan and Peter, based on the reminiscences they so often sought from her. Joan has been an almost unfailing attendee at our meetings, thanks in recent years particularly to assistance from Marion and Cathy, and she will be greatly missed.
Screeuyn naight Banglane y Chorn – Jerrey Fouyir 2021 October – Cornish Branch Newsletter

The October newsletter of the Cornish Branch has some very interesting and thought-provoking articles, and can be read by clicking here.
                                                                                                                                                                                   Bink ayns cooinaghtyn Pat Skillicorn – A bench in memory of Pat Skillicorn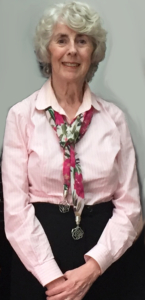 Members will be interested and pleased to know that there is a bench in Silverdale Glen in memory of Pat Skillicorn. The memorial was arranged and is being maintained by Pat's fiancé, Leonard Spencer, and a small brass plaque on the back of the bench is engraved with the words:
IN LOVING MEMORY OF
PATRICIA SKILLICORN
(1941-2020)
MANX HISTORIAN AND AUTHOR
IN HER BELOVED SILVERDALE GLEN
It is telling that the Isle of Man Government says that it does not allow memorials in the Glen other than for exceptional Manx people. The memorial to Pat is the only one there, which shows her standing and the respect in which she was held.
Leonard describes the chosen spot as tranquil with the sound of water coming over the nearby waterfall. To find the bench, if you were to start at the old ponds then it is a short level walk upstream. This route would be easier for those with walking problems. Alternatively, if you start at the cafe/boating lake it is not far. Go downstream starting on the path where the ice cream vans sit. Stay close to the river, past the waterfall and you come to a bridge. Over that and it is only a few yards further.
Baase Noel Cringle, OBE – Death of Noel Cringle, OBE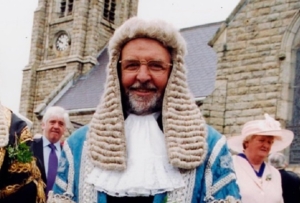 We are very sorry to report the death of one of the Patrons of the Manx Branch of the Celtic Congress, Noel Cringle OBE, on 27th August 2021 at the age of 83. During a branch visit in May 2019 to the Friary, his family farm in Ballabeg, Mr Cringle told us that he slept in the room in which he had been born. He was an energetic, knowledgeable and entertaining guide to the Friary and Ballabeg, and whilst his knowledge and interests were very wide, he always retained a keen interest and pride in his home environment.
In addition to his career in farming, including as an agricultural auctioneer, Mr Cringle took an early interest in local politics and later became a member of Tynwald. His political career spanned five decades, serving as a Member of the House of Keys between 1974-86, and again between 1991-2000. He served as Education Minister and Speaker of the House of Keys before his election as President of Tynwald in 2000, a post he held until 2011. In 2008 he was awarded an OBE in the Queen's New Year honours list for public service in the Isle of Man.
Mr Cringle was noted for his singing, taking part in many musical entertainments, and his pre-Christmas Mart became an institution for its carol singing. He also had a great love of the work of T E Brown, which he delighted in reciting. With his boundless energy, he was also interested in, and participated in, sporting events. In whatever he did, Mr Cringle was noted for his enthusiasm and verve and he will be sadly missed. He was married to the late Mary, and is survived by their two sons.
Cohaglym Celtiagh Eddyr-Ashoonagh – 2021 – International Celtic Congress
The International Celtic Congress this year was run by the Welsh Branch and streamed online from the evening of Friday 2nd July to Sunday 4th July. It gave all the branches an opportunity to prepare videos of presentations on the subject, How to be successfully Celtic in the modern business world, which, as is so often the case, produced a range of approaches. The presentation on behalf of the Manx branch can be viewed by clicking here.
There were also performers from each country taking part through videos, plus business showcases, virtual tours of places of interest in Ceredigion and the links between west Wales and some of the eastern counties of Ireland, as well as a variety of other surprise inclusions. There were also language workshops for all the Celtic languages via Zoom.
Nyn Mwooise da Margaret Patricia Crellin – Our thanks to Margaret Patricia Crellin 
The Manx Branch of the Celtic Congress has recently received a generous bequest from Margaret Patricia Crellin, who passed away in Noble's Hospital in January this year at the age of 91. She was sister to George Crellin of Fiddlers Green, Andreas and a relative of John Crellin of Close-e-Kee.  Margaret spent some years in Australia but always loved things Manx. She learned the Manx language by getting sets of tapes sent out to her. In addition to her bequest to the Celtic Congress, she also made one to Yn Cheshaght Ghailckagh, with which John Crellin has, of course, been so closely associated for many years.
Click here for a second Celtic Congress newsletter from the Cornish Branch – Len Sheppard, the Vice-Chair of the Cornish branch, has prepared the second of a series of newsletters to be published every other month to promote the Congress and work of the various branches to a wider international audience. He asks for material for inclusion to be sent to him at associationcornishheritage@gmail.com. The first one is available by clicking here.
Chaglym Cadjin Bleinoil – Annual General Meeting 
The annual general meeting was held in the Guild Room, Atholl Street, Peel at 4.00pm on Saturday 5th December. The draft minutes can be found by clicking here.
Failt erriu gys Banglane Manninagh y Chohaglym Celtiagh
Welcome to the Manx Branch of the Celtic Congress
Eaghtyrane: Brian Kerwin
Lhiass Eaghtyrane: Stewart Bennett
Patroonyn: Clare Christian OBE; Hazel Hannan
Screeudeyr Onn: Bob Carswell
Tashteyder Onn Shallidagh: Bob Carswell
The International Celtic Congress is held annually to perpetuate the culture, ideals, and languages of the Celtic peoples, and to maintain an intellectual contact and close cooperation between the respective Celtic communities.
The Celtic Congress was founded in 1917, though its antecedents go back some years before that, in order to promote the knowlege, use, and appreciation of the languages and cultures of the six Celtic countries. National Branches of the Congress meet in an International Congress each year in order to help further these aims.
Bob Carswell
Blaaghyn Feie – Wild Flowers  – A slide show with John 'Dog' Callister 
John 'Dog' Callister's […]
Bob Carswell
Taishbynys James Franklin – A Presentation by James Franklin
Manx Dialect Plays
The Guild Room was packed for […]
Bob Carswell
Professor Angela Little is originally from Port le Moirrey, where her father was headmaster of […]