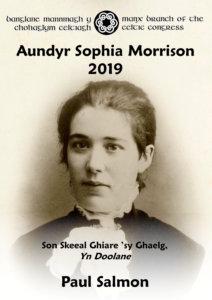 This year saw the 160th anniversary of the birth of Sophia Morrison in Peel on 24th May 1859. To mark that anniversary, 'A Manks Concert for Sophia Morrison' was held at the Centenary Centre, Peel on Friday 24th May 2019.
The concert included the announcement of the winner of Aundyr Sophia Morrison for a short story in Manx (600-1,000 words) and award of £100. A certificate and the cash award were presented by Lhiass-Eaghtyrane Banglane Manninagh y Chohaglym Celtiagh, Stewart Bennett (as eshyn Eaghtyrane yn Cheshaght Ghailckagh neesht) to Paul Salmon for his story, Yn Doolane.
Sophia Morrison had already established Manx Gaelic classes in Peel by the time she became a founder member and later Secretary of The Manx Language Society (Yn Cheshaght Ghailckagh).
She was an important figure at the centre of Manx and pan-Celtic cultural activity. She collected and published Manx folklore of all kinds – stories, songs, sayings – and shared information about it with a wide range of academics and other interested parties.
She was enthusiastically involved in the pan-Celtic movement which crystallized as the Celtic Congress in 1917 – unfortunately, some months after her own untimely death in January of that year.
Failt erriu gys Banglane Manninagh y Chohaglym Celtiagh
Welcome to the Manx Branch of the Celtic Congress
Eaghtyrane: Brian Kerwin
Lhiass Eaghtyrane: Stewart Bennett
Patroonyn: Clare Christian OBE; Noel Cringle OBE; Hazel Hannan
Screeudeyr Onn: Bob Carswell
Tashteyder Onn: Robin Callister
The International Celtic Congress is held annually to perpetuate the culture, ideals, and languages of the Celtic peoples, and to maintain an intellectual contact and close cooperation between the respective Celtic communities.
The Celtic Congress was founded in 1917, though its antecedents go back some years before that, in order to promote the knowlege, use, and appreciation of the languages and cultures of the six Celtic countries. National Branches of the Congress meet in an International Congress each year in order to help further these aims.
Bob Carswell
A Manks Concert for Sophia Morrison was held on the 160th anniversary of the birth […]
Bob Carswell
Alison Jones was an excellent guide for our visit to the Centre for WWI Internment […]
Bob Carswell
The theme chosen by the Cornish Branch of the Celtic Congress for this year's International […]